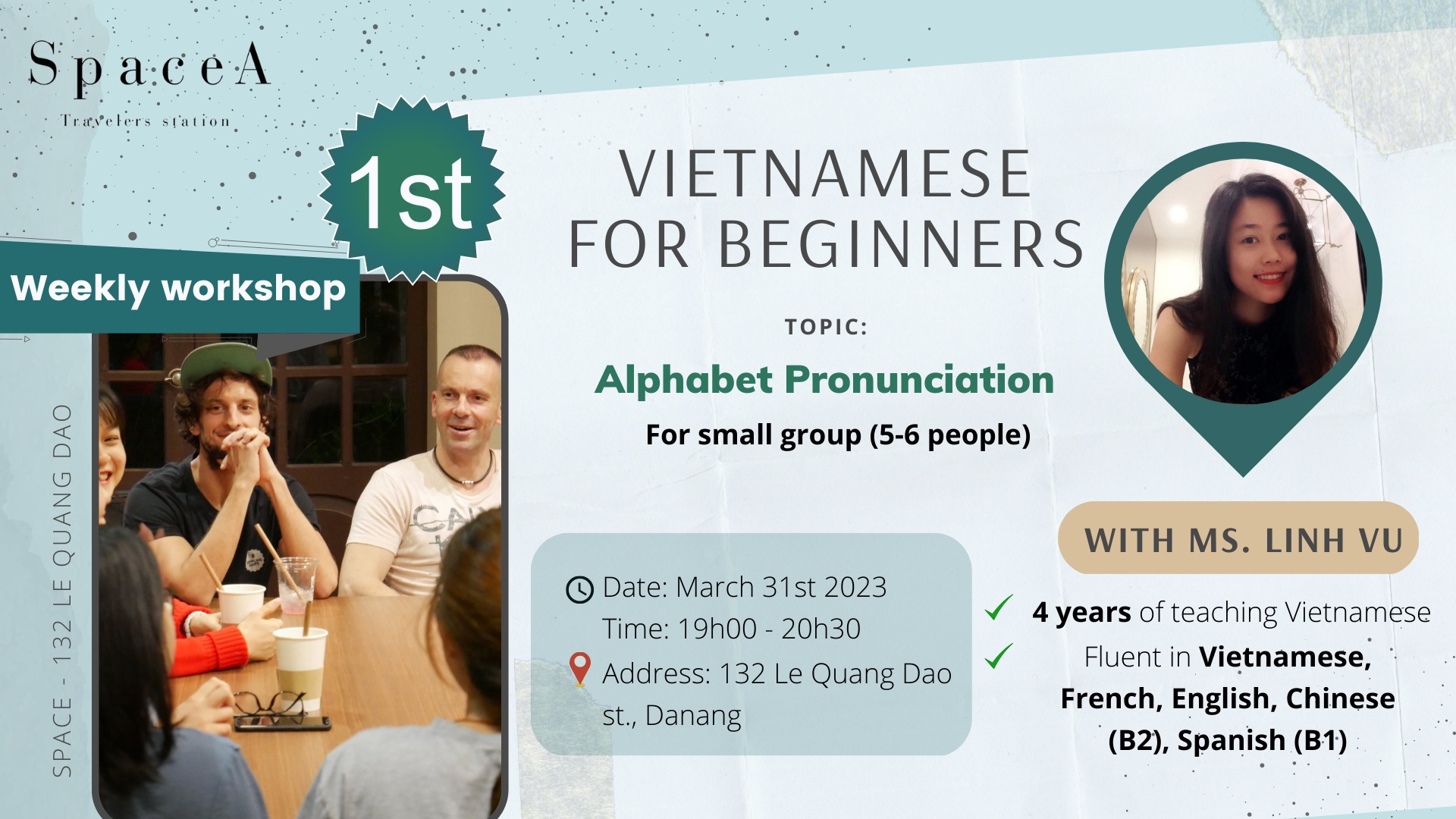 Vietnamese pronunciation classes for beginners
WORKSHOP: Vietnamese for Beginners (For small group: 5-6 people)
With the desire to help people who are having difficulty accessing Vietnamese as well as to bring Vietnamese closer to everyone easily. At the end of this month, SpaceA will organize a series of weekly workshops: VIETNAMESE LANGUAGE FOR BEGINNERS
◉ Description:
The workshop series will be held in the presence of the host as an instructor, sharing and answering questions for participants.
◉ What you do:
– Before the workshop: watch and learn a pre-prepared video
– At the workshop:
+ Review the lesson to understand more deeply
+ Get feedback from the host
+ Practice what you have learned
– After the workshop: do some homework (if available) from the instructor for extra practice.
Topic in the first week: ALPHABET PRONUNCIATION
Lesson: Please click to the link to see and learn the lesson before you join the workshop 
https://tinyurl.com/vietnameselesson
◉ Information about host:
Ms Linh Vu :
– Having 4 years of experience in teaching Vietnamese.
– Fluent in 5 different languages: Vietnamese, French, English, Chinese (B2), Spanish (B1).
– Having a youtube channel and a fan page to share experiences and lessons of interest with everyone. More information:
Youtube: 
https://www.youtube.com/watch?v=s_0AjkGM5jM
Facebook: 
https://www.facebook.com/easyphovietnamese
– Time of the 1st workshop: 19:00 – 20:30 on Friday, March 31st, 2023
– Location: SpaceA, 132 Le Quang Dao street (at the intersection of Le Quang Dao st. and Duong Tu Quan st.), Ngu Hanh Son, Da Nang.
– Participation fee: 100 000 VND (not include drink)
– Registration form: 
https://tinyurl.com/lanuageclass-vietnamese
*Note:
– The time and host will be updated weekly on SpaceA's fanpage.
– Please register before coming to the workshop.